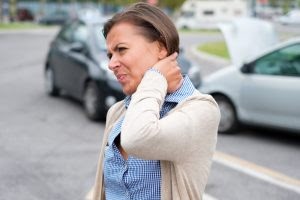 One of the most common injuries resulting from trauma, such as a car crash, is whiplash. Whiplash is a neck injury that occurs when a person's head is violently snapped forward then backward, putting their spine and the muscles in their neck through extreme stress. After suffering whiplash, a patient may experience acute neck pain, prolonged difficulty moving their neck, shoulder/back pain, numbness, and/or headaches.
Diagnosing Whiplash
Though common, whiplash is sometimes difficult to diagnose given that there are a number of other causes for a whiplash-like symptom, including stingers and pinched nerves. Oftentimes, a person who has been in a traumatic accident may experience problems such as these in addition to whiplash.
During your initial visit, we will work with you in order to accurately and thoroughly diagnose the cause of the symptoms you are experiencing. This includes evaluating your spine as a whole and looking for areas where movement is restricted. They may use touch to locate areas of tenderness as well as observe your walk and posture in order to take note of your spinal alignment.
In addition to a physical examination, we may also order an x-ray or an MRI of your spine. Most often, these procedures are meant to identify any spinal issues that may have existed before your trauma that could compound your symptoms.
After a thorough examination of the injured area and your spine as a whole, a diagnosis will be made and treatment may begin.
Treating Whiplash
The treatment plan for whiplash varies depending on the severity of the injury as well as any other issues that may be compounding it. Most often, a chiropractor treating a whiplash injury will start by reducing the inflammation in the muscles in your neck. This is done using a variety of techniques such as stretches, ice packs, massages, and ultrasounds, and the goal is to reduce any pain and stiffness you may be experiencing.
After the inflammation and pain in your neck muscles have been reduced, your chiropractor will perform gentle spinal manipulation procedures in order to restore your full range of motion in your neck. Depending on the severity of your injury, these procedures may take a number of forms. In every case, though, the goal is to restore a complete range of motion and eliminate any pain and stiffness.
In most cases, patients who are suffering from whiplash can expect a full recovery if the right measures are taken.
Conclusion
Whiplash is a painful condition that sometimes won't go away on its own. If you are suffering from prolonged neck stiffness and pain or any other symptoms resulting from trauma to your neck, we hope that you will contact Martha Lake Chiropractic & Wellness today to schedule an appointment. We are ready to get you on the road to recovery.