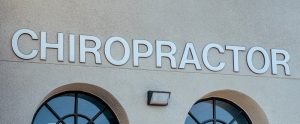 Your back aches, your posture stinks and you have stress that you can feel in your neck. It may be time to think about visiting the chiropractor! Millions of Americans receive chiropractic care, a natural, drugless approach that works with patients to help them to achieve better health.
The basic principle that chiropractors apply to their profession and their practice is the body's unique ability to heal itself with the appropriate help and guidance. While physical health is one of the major benefits of regular visits to the chiropractor, mental health is also a large benefit, along with others.
1.) Improve Posture
Regular chiropractic adjustments can align tilting and curves in your spine. In a generation where our phones and computers are more and more prevalent, neck issues become common as we spend time in front of a computer screen or hunched over a phone. When you visit your chiropractor on a routine basis, your overall posture and strength will be improved and save you from various issues that poor posture can lead to.
2.) Relieve Stress
In addition to the stresses put on our bodies by technology and other new advancements, our daily lives are incredibly busy and very stressful. We are surrounded by many stress factors in our everyday lives, including the stress your body is under that is not as easily seen, such as the stress put on your body and mind when your nervous system is out of line and your entire muscular and skeletal systems are not in the proper position. This can often lead to your body feeling out of line. If you regularly see a chiropractor, your stress can be relieved and your entire body will feel more balanced. The positive relaxation messages that are immediately sent to your brain will leave you with less tension. In addition, you will feel more prepared and in control when stressful situations are faced.
3.) Improve Your Mood
When you are less stressed and more balanced, your mood is improved all of your body's systems are more in balance. Balancing your overall health and all of your systems will help to maintain overall health. When you increase good hormones such as dopamine and decrease bad hormones such as cortisol, you can make a huge difference in how efficiently your brain and body operate.
4.) Sleep More Restfully
You also need sleep to maintain a stress-free, healthy life – but millions of Americans don't get nearly enough sleep. If you suffer from a lack of sleep or chronic sleeping disorders, it can seriously impact your body's overall health. Regular chiropractic visits will help you maintain balance throughout your life and will greatly improve your sleep.
5.) Be More Energetic
With lack of sleep, stress, and crooked spines, it is no wonder some of us lack the energy to accomplish our everyday tasks. But a lack of energy can make living and thriving a difficult task. With a regular chiropractic adjustment, you can find yourself less fatigued, much more energetic, and able to complete all of your everyday tasks.
If you could benefit from any of these things, contact Martha Lake Chiropractic & Wellness today for more information and a consultation!